Update: Invites are live! I've got 5 for now - first folks to ask me through Twitter get them!
I've had an active version of my resume on StackOverflow Careers for a while - for as long as they've been around, really. It's actually the only place on the internets that my resume can be found - at one point a couple years ago, I deleted my accounts on Dice, Monster, Hotjobs, etc - recruiter spamfests, all.  Today at the LAUNCH Conference, Joel Spolsky & pals took the lid off of Careers 2.0, featuring a new dynamic, much better looking profile, and a better job search interface.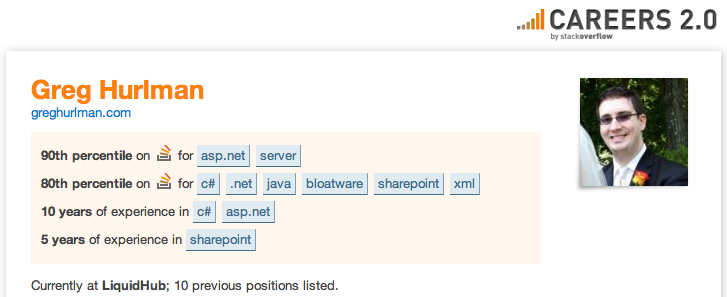 The best part? Free! All free, but by invitation only. Apparently you can get your hands on an invitation by being an active participant on one of the StackExchange family of sites -
to hear Joel tell it
, it won't be hard to get in, and I'll even have a few invites to give out myself - time will tell.  Either way, if you get the opportunity, I highly recommend you check it out.